Search Jobs
Have a LinkedIn profile? Sign into your account and we can match your skills to available opportunities
Log in
Current Team Member?
Check our openings to grow your career
Insider Jobs
Returning Applicant?
Check the status of your application here
Status Update
Irrigation Laborer (BVLD 1510) Orlando FL
Location
Orlando, Florida
BrightView Landscape Development
Brighter futures start here.  BrightView takes pride in providing consistent, high-quality landscape services with a dependable service commitment. As the nation's leading landscape services company, BrightView provides, through its team of more than 18,000 employees, services ranging from landscape maintenance and enhancements to tree care and landscape development for thousands of customers' properties, including corporate and commercial properties, HOAs, public parks, hotels and resorts, hospitals and other healthcare facilities, educational institutions, restaurants and retail, and golf courses, among others. BrightView takes care of its employees, customers, and communities while delivering exceptional landscapes that positively impact millions of lives every day.
A brighter future is in your hands. 
We're currently seeking an Irrigation Leadman
What you'll do / Lo que va a hacer:
Able to pre-fabricate sub-assemblies as per sample provided by foreman / prefabricar subconjuntos según una muestra

Able to assist trenching / digging operator if / when need / ayudar al operador de apertura / excavación cuando sea necesario

Understand how to cut, glue lateral line pipe, fitting , cut and assemble drip tubing, fitting / Cortar, pegar tubería, accesorio de línea lateral, cortar y ensamblar tubería, accesorio de goteo

Capable of hand back filling / Completar relleno de mano

Physical Requirements / Requisitos físicos:
Ability to work in extreme conditions – temperatures may exceed 100 degrees Fahrenheit / Habilidad de trabajar en condiciones extremas: las temperaturas pueden superar los 100 grados Fahrenheit

Ability to work in direct sunlight for extended periods of time / Habilidad de trabajar bajo luz solar directa durante largos periodos de tiempo

Ability to load/unload trailer (up to 50 lbs.) / Habilidad de cargar / descargar el remolque (hasta 50 lbs.)

Ability to bend, stoop and twist continuously throughout the day; Work in/or about situations near direct automotive traffic / Habilidad de doblarse, inclinarse y girar continuamente durante el día; Trabajar en situaciones cercanas al tráfico

Work near or about natural bodies of water / Trabajar cerca de masas naturales de agua

Work 8+ hours per day with applicable breaks x 5 days/week (some overtime/weekend work required) / Trabajar 8 horas o mas al dia con descansos, 5 dias a la semana (se requiere algún trabajo de horas extra / fin de semana)

Skills we're seeking / Habilidades que buscamos:
Minimum of 1 year experience working with commercial irrigation systems / Un mínimo de 1 año de experiencia , incluyendo pero no limitado a: la lectura de una cinta de medir , preparar grado para hormigón, diseños formas , corbata barras de refuerzo , pala concreto , tiras y formas limpias

Ability to work & multi-task in a fast paced environment / Capacidad para trabajar y realizar múltiples tareas en un entorno de ritmo rápido

Strong work ethics / Fuerte ética de trabajo

Bilingual (Spanish) a plus / Bilingüe (español) preferido

Perks / Beneficios:
Competitive salary /

Salario

competitivo (minimum $11.00/hr / mínimum $11.00/hra.) 

Paid Holidays / Pago de días Feriados

Medical, Dental, and Vision Insurance / Seguro Médico, Dental, y de Vista 

BrightView Landscapes, LLC is an Equal Opportunity and E-Verify Employer
BrightView paisajes, LLC es una igualdad de oportunidades y E-Verify empleado
Job ID 20301
Date posted 09/11/2019
No jobs have been viewed recently.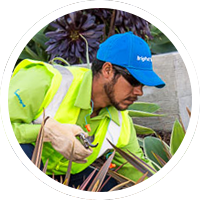 The Start of Something Great
Join the industry's leading landscape services company, with 22,000 team members who believe taking care of each other is just as important as taking care of our clients. As we design, build, maintain and enhance landscapes across the country, we create new opportunities for success—and bring big dreams to life. Start your success story here.