Search Jobs
Have a LinkedIn profile? Sign into your account and we can match your skills to available opportunities
Log in
Current Team Member?
Check our openings to grow your career
Insider Jobs
Returning Applicant?
Check the status of your application here
Status Update
Equipment Operator (BVLD 1510) Orlando FL
Location
Orlando, Florida
BrightView Landscape Development
Brighter futures start here.  BrightView takes pride in providing consistent, high-quality landscape services with a dependable service commitment. As the nation's leading landscape services company, BrightView provides, through its team of more than 18,000 employees, services ranging from landscape maintenance and enhancements to tree care and landscape development for thousands of customers' properties, including corporate and commercial properties, HOAs, public parks, hotels and resorts, hospitals and other healthcare facilities, educational institutions, restaurants and retail, and golf courses, among others. BrightView takes care of its employees, customers, and communities while delivering exceptional landscapes that positively impact millions of lives every day.

The Equipment Operator is responsible for operating heavy equipment in a safe and appropriate manner. Heavy equipment may include trucks, front end loaders, dozers, graders, compactors, trenchers, backhoes, loaders and other pieces of equipment. Equipment Operator must also clean, maintain and secure all equipment as directed by policies and procedures.
A brighter future is in your hands.We're currently seeking Equipment Operator
Skills we're seeking / Lo que buscamos:
Have a working knowledge of equipment including mini excavator, loaders, skid steers and trenchers
and operates all equipment correctly (Mini Excavator, trencher, MT-55, Bobcat, etc.) / Tener un conocimiento de trabajar correctamente de equipos (cargadores, skid steers y zanjadoras)

Demonstrates knowledge of equipment maintenance / Demuestra conocimiento de mantenimiento del equipo

Maintains equipment and reports necessary repairs

Performs daily maintenance on equipment / Mantener el equipo e informes de reparaciones necesarias diariamente

Keeps equipment neat and clean / Mantén equipo limpio

Recognizes and solves problems related to equipment operation / Reconoce y resuelve problemas relacionados con el funcionamiento del equipo

Suggests and implements time saving methods / Efectivamente comunicar con los obreros cerca del equipo

Anticipates, identifies markers and operates equipment safely around utilities / Anticipa, identifica marcadores, y opera equipos de forma segura alrededor de utilidades

Demonstrates good communication skills / Habilidad de mostrar buena comunicación

Bilingual (Spanish) is a plus / Bilingüe (español) es una ventaja 


Physical Requirements / Requisitos físicos:
Ability to work in extreme conditions – temperatures may exceed 100 degrees Fahrenheit / Habilidad de trabajar en condiciones extremas: las temperaturas pueden superar los 100 grados Fahrenheit

Ability to work in direct sunlight for extended periods of time / Habilidad de trabajar bajo luz solar directa durante largos periodos de tiempo

Ability to load/unload trailers (up to 50 lbs.) / Habilidad de cargar / descargar remolque (hasta 50 lbs.)

Ability to bend, stoop and twist continuously throughout the day; Work in/or about situations near direct automotive traffic / Habilidad de doblarse, inclinarse y girar continuamente durante el día; Trabajar en situaciones cercanas al tráfico

Work near or about natural bodies of water / Trabajar cerca de masas naturales de agua

Work 8+ hours per day with applicable breaks x 5 days/week (some overtime/weekend work required) / Trabajar 8 horas o mas al dia con descansos, 5 dias a la semana (se requiere algún trabajo de horas extra / fin de semana)


Perks / Beneficios:
Competitive salary / Salario competitivo (minimum $13.00/hr / mínimum $13.00/hra.)

Paid Holidays & Vacation days off / Pago de días Feriados y Vacaciones

Medical, Dental, and Vision Insurance / Seguro Médico, Dental, y de Vista
BrightView Landscapes, LLC is an Equal Opportunity and E-Verify Employer
BrightView paisajes, LLC es una igualdad de oportunidades y E-Verify empleador
Job ID 20303
Date posted 09/11/2019
No jobs have been viewed recently.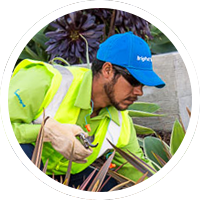 The Start of Something Great
Join the industry's leading landscape services company, with 22,000 team members who believe taking care of each other is just as important as taking care of our clients. As we design, build, maintain and enhance landscapes across the country, we create new opportunities for success—and bring big dreams to life. Start your success story here.