Search Jobs
Have a LinkedIn profile? Sign into your account and we can match your skills to available opportunities
Log in
Current Team Member?
Check our openings to grow your career
Insider Jobs
Returning Applicant?
Check the status of your application here
Status Update
Concrete Foreman (BVLD 1510) Orlando FL
Location
Orlando, Florida
BrightView Landscape Development
BrightView takes pride in providing consistent, high-quality landscape services with a dependable service commitment. As the nation's leading landscape services company, BrightView provides, through its team of more than 18,000 employees, services ranging from landscape maintenance and enhancements to tree care and landscape development for thousands of customers' properties, including corporate and commercial properties, HOAs, public parks, hotels and resorts, hospitals and other healthcare facilities, educational institutions, restaurants and retail, and golf courses, among others. BrightView takes care of its employees, customers, and communities while delivering exceptional landscapes that positively impact millions of lives every day.
This position is located in Orlando, FL on a Full-Time basis
We're currently seeking a Concrete Foreman
What you'll do:
Coordinate and supervise activities of workers and construction needs for all phases / Coordinar y supervisar las actividades de los trabajadores y las necesidades de construcción para todas
las fases

Inspect blueprints for determining various aspects of structure / Inspeccione planos para determinar diversos aspectos de la estructura

Schedule materials with purchasing agent / Acordinar materiales con agente de compras

Communicate daily with project manager of any changes in field that will delay project schedule / Comunicar a diario con gestor de proyectos de cualquier cambio en el campo que retrasarán cronograma
del proyecto
Allotting workers to their respective duties and making sure that they have the appropriate training
and tools so that they can execute their jobs accurately / Asignación de trabajadores a sus respectivos deberes y asegurarse de que tienen la formación y las herramientas apropiadas para que puedan ejecutar su trabajo con precisión
Meet company compliance reporting requirements including accident and incident reports, weekly
tailgate meetings, site inspections and daily timekeeping requirements / Cumplir con los requisitos de presentación de informes de cumplimiento de la empresa, incluyendo los requerimientos diarios de cronometraje accidente y los informes de incidentes, las reuniones semanales
de la puerta posterior y las inspecciones

Ensure regulatory needs and safety measures are maintained. / Asegurar las necesidades reglamentarias y medidas de seguridad se mantienen

Assess the fastest and easiest way to complete a job without sacrificing quality of the work being done / Evaluar la forma más rápida y fácil para completar trabajo sin sacrificar la calidad del trabajo que se realiza


Physical Requirements / Requisitos físicos:
Ability to work in extreme conditions – temperatures may exceed 100 degrees Fahrenheit / Habilidad de trabajar en condiciones extremas: las temperaturas pueden superar los 100 grados Fahrenheit

Ability to work in direct sunlight for extended periods of time / Habilidad de trabajar bajo luz solar directa durante largos periodos de tiempo

Ability to load/unload trailer (up to 50 lbs.) / Habilidad de cargar / descargar remolque (hasta 50 lbs.)

Ability to bend, stoop and twist continuously throughout the day; Work in/or about situations near direct automotive traffic / Habilidad de doblarse, inclinarse y girar continuamente durante el día; Trabajar en situaciones cercanas al tráfico

Work 8+ hours per day with applicable breaks x 5 days/week (some overtime/weekend work required) / Trabajar 8 horas o mas al dia con descansos, 5 dias a la semana (se requiere algún trabajo de horas extra / fin de semana)


Skills we're seeking / Habilidades que buscamos:
Minimum of 3 years of commercial experience / Mínimo 3 años de experiencia commercial

Strong work ethic and knowledge of blueprints / Fuerte ética de trabajo y conocimientos de planos

Bilingual (Spanish) a plus / Bilingüe (español) es una ventaja


Perks / Beneficios:
Competitive salary / Salario competitivo (minimum $18.00/hr / mínimum $18.00/hra.)

Paid Holidays and Vacations / Pago de días Feriados y vacaciones

Medical, Dental, and Vision Insurance / Seguro Médico, Dental, y de Vista

401K


BrightView Landscapes, LLC is an Equal Opportunity and E-Verify Employer
BrightView paisajes, LLC es una igualdad de oportunidades y E-Verify empleador
Concrete Finishers,Concrete Pour/Finishers
Job ID 18192
Date posted 05/29/2019
No jobs have been viewed recently.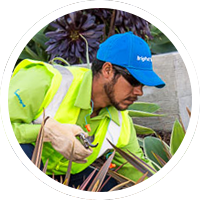 The Start of Something Great
Join the industry's leading landscape services company, with 22,000 team members who believe taking care of each other is just as important as taking care of our clients. As we design, build, maintain and enhance landscapes across the country, we create new opportunities for success—and bring big dreams to life. Start your success story here.