Search Jobs
Have a LinkedIn profile? Sign into your account and we can match your skills to available opportunities
Log in
Returning Applicant?
Check the status of your application here
Status Update
Tree Care Manager
Location
Durham, North Carolina
BrightView Landscape Services
Brighter futures start here.  Welcome to BrightView.  We're a team of talented professionals, driven by results and relationships, and committed to taking care of each other, clients, and communities. 
BrightView was recently formed through the combination of landscape industry pioneers and leaders, Brickman and ValleyCrest.  This defining event united more than 140 years of experience, an extraordinary portfolio of high-profile projects and clients, and a vast, national network of expertise and innovation. As one and true to our name, we're reinventing the industry while affording our 22,000+ team members access to the most comprehensive training, resources, benefits, mentorship, and opportunities for career advancement.
A brighter future is in your hands.  We're currently seeking a Tree Manager. The Tree Manager (TM) schedules and directs personnel and resources towards providing quality, cost-effective tree services to clients. TMs also support the Account Manager(s) in estimating, design and client meetings as needed. TMs will also sell tree services to clients, with or without base maintenance contracts, on their own.
The Tree Manager will starting up a Tree Group in the Raleigh-Durham area.  The Tree Manager will be responsible for hiring, training, and developing these individuals and providing day-to-day operational scheduling and guidance. 
What you'll do:
Understand client needs via regular communication with the Account Manager(s).

Ensure that job site safety, quality and appearance meet client and BrightView standards.

Manage all tree services, including the coordination of all materials, people, equipment and subcontractors required to produce quality work.

Inspect properties prior to scheduled service in order to properly prepare specific action plan for service. Adjust schedule as needed and follow up.

Ensure work is executed with proper techniques.

After installation, monitor all aspects of the landscape and identify insect or disease problems.

As necessary, perform hands-on work with crews to meet work and scheduling demands.

Implement and enforce BrightView policies and procedures related to proper upkeep and maintenance, storage, use, and training required for branch equipment.

Work with the Branch Manager to identify staffing needs.

Hire new crew as needed.

Ensure proper paperwork is completed for all personnel changes and hires.

Communicate with, counsel, train, discipline, review, and develop growth plan for employees.

Prepare daily crew schedules and goals to be accomplished.

Emphasize quality and efficiency of operations.

Hands-on training and support of crew personnel, including proper operation of equipment, pruning techniques, safety, and quality standards.

Minimize accidents to personnel and equipment.

Monitor safety record of crews.

Keep emergency contact information up to date and available.

Maintain and manage all required administrative systems, including time sheets, service schedules, and executed vs. budgeted performance.

Coordinate with Branch Administrator to ensure tree job databases are consistently updated with current job information.

Order materials as needed and monitor costs and deliveries.

Request purchase orders and use in accordance with company guidelines.

Assist the Branch Manager in the performance of tree sales tasks, as required, including but not limited to:

Ensure tree goals for the branch are properly budgeted.

Work with the Branch Manager to ensure those goals are met or exceeded.

Help Account Managers understand and accurately estimate jobs.

Review tree job performance with branch team.

Estimate and sell tree jobs inside and outside of base maintenance contracts.
Skills we're seeking
2 or 4 year degree in a business related field or equivalent experience required.

Minimum of 3 years of prior customer service, management, and leadership experience within an organization, the landscaping industry or local marketplace.

International Society of Arboriculture certification preferred.
Perks:
Competitive salary
Paid time off
Medical, dental, and vision insurance
BrightView Landscapes, LLC is an Equal Opportunity and E-Verify Employer.
Job ID 17129
Date posted 01/10/2019
No jobs have been viewed recently.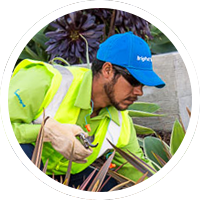 The Start of Something Great
Join the industry's leading landscape services company, with 22,000 team members who believe taking care of each other is just as important as taking care of our clients. As we design, build, maintain and enhance landscapes across the country, we create new opportunities for success—and bring big dreams to life. Start your success story here.