Search Jobs
Have a LinkedIn profile? Sign into your account and we can match your skills to available opportunities
Log in
Current Team Member?
Check our openings to grow your career
Insider Jobs
Returning Applicant?
Check the status of your application here
Status Update
Director, Environmental Health and Safety
Location
Blue Bell, Pennsylvania
BrightView Companies
Brighter futures start here. BrightView takes pride in providing consistent, high-quality landscape services with a dependable service commitment. As the nation's leading landscape services company, BrightView provides, through its team of more than 18,000 employees, services ranging from landscape maintenance and enhancements to tree care and landscape development for thousands of customers' properties, including corporate and commercial properties, HOAs, public parks, hotels and resorts, hospitals and other healthcare facilities, educational institutions, restaurants and retail, and golf courses, among others. BrightView takes care of its employees, customers, and communities while delivering exceptional landscapes that positively impact millions of lives every day.
A brighter future is in your hands.  We're currently seeking a Director of Environmental Health and Safety.
The Director of Environmental Health and Safety position reports directly to the SVP of Operational Excellence and is the lead EHS executive for BrightView.   The role will be responsible for advancing the maturity of BrightView's Safety Management System and repeatable business model to align with the enterprise vision and loss improvement strategy and will lead and enable Regional EHS Managers and Branch Safety Leaders to a best-in-class standard of safety performance. This individual will work closely with functional peers within the Operational Excellence team and will be responsible for interfacing with senior leaders in the organization in driving continuous improvement, managing and mitigating risk and creating enterprise value.
Technically adept and demonstrably proficient in risk control methodologies, the successful individual will be a visible leader of people, a driver of change, responsible for creating strategic vision, delivering results and progressive improvement in support of BrightView's operational excellence. The individual will operate with an emphasis on clear and thorough communication, integrity and ethics at all times, must be comfortable with ambiguity in a dynamic work environment, and must be able to effectively adapt their style and organization to changing business requirements and processes. A team first mindset and clear ability to build consensus within a matrix environment with a high level of collaboration with business leaders and functional peers is critical to success.
Critically important characteristics of the successful individual include:
Change Agent – enforce uniform BrightView policies, processes and controls, promote a culture of one company, one best way
Relationship Manager – ensure strong relationships across functions / geographies
Leaders who will motivate, influence, and inspire others
Ability to challenge the status quo and effectively raise and resolve conflict
Drive continuous improvement of processes and controls
Public company experience - risk management mindset
What you'll do:
Provide leadership direction, coaching, training and mentoring to a diverse team of regionally deployed EHS professionals  across the U.S.
Responsible for cultivating and maintaining relationships with senior executives across all Divisions of BrightView to develop sustaining sponsorship for safety and risk control and drive organization to achieve best in class safety performance for the service industry
In conjunction with the SVP of Operational Excellence, develop the strategic vision and direction for enterprise risk control activities including; occupational safety, environmental management / compliance, fleet safety, DOT compliance, pesticide compliance and  subcontractor qualification
Design, develop, implement, and enforce annual improvement plans based on BrightView's  Safety Management System and established best practices to drive scalable and sustainable performance
Ensure regional EHS support teams are following a consistent and common set of management routines and disciplines focused on the highest value support activities and targets. Creates KPIs to measure internal team effectiveness
Monitor loss trends and realign staff resources as appropriate; Work with Operations leadership and team to troubleshoot and develop plans to hedge newly formulating trends.
Identifies and anticipates safety and health concerns and hazards and developed preventative programs as needed. Leads investigations and root cause analysis for severe / catastrophic incidents to prevent recurrence
Provides leadership and resources as appropriate to develop and maintain the safety communications process for the organization
Maintains relationships with key clients as needed to address emerging EHS issues, create corrective action plans, manage compliance with specific client requirements to maintain client satisfaction and sustain BrightView's competitive advantage in the marketplace
Provides thought leadership and support to ensure effective integration of acquired companies into BrightView's safety program and culture. Monitors the execution of safety integration plans
Year one critical success factors:
Establish strong, strategic performance based partnerships with Division Presidents and  Regional SVPs
Develop, motivate and retain a robust, well qualified regional EHS support Team, including Regional EHS Managers and Branch Safety Leaders and other organizational stakeholders overseeing the implementation of BrightViews's  Safety Management System
Expand the scope of risk control focus for EHS team in alignment with senior leadership beyond occupational safety to include; environmental management, fleet safety, DOT compliance,  pesticide compliance and licensing and merger integration
Skill's we're seeking:
The ideal candidate will have 10-15 years of proven safety , environmental and risk control experience with previous experience as a functional leader in a matrix operating environment. 
Specific qualifications include:
Undergraduate degree in Safety, Environmental, Engineering, Behavior Safety, Industrial Hygiene, etc.) or equivalent required.  Master's degree preferred
Certified Safety Professional preferred
Experience in development and implementation of safety and environmental management systems
Excellent leadership, critical thinking, communication and team building skills required.
Experience with organizational transformation and process improvement.
Ability to execute and follow-through to completion.
Strong results orientation
Proven ability to operate with a high degree of autonomy and professionalism
Proven capability to drive change in transformational periods
High degree of problem solving and decision-making, even in ambiguous situations
Excellent written and verbal communication skills
Ability to communicate and build strong relationships with executives, colleagues, direct-reports, supervisors and external consultants.
Leadership Traits:
Responsive and Right: Ability to hold oneself and others accountable to clear standards of service excellence in an increasingly dynamic environment. When necessary, effectively and appropriately confront performance issues, resource constraints and other obstacles to meet objectives.
Teamwork: Ability to partner across departmental lines and work collaboratively within and outside one's own team in order to best serve client needs and exceed client expectations. Actively supports key decisions and promotes a spirit of teamwork to demonstrate the commitment of one BrightView.
Demonstrates service by going beyond what is expected. Possesses understanding of others' situation or business.  Focuses on creating the right solutions to address specific needs.
Demonstrated ability to motivate and develop people
Ability to manage through other managers and interact with all levels in the organization
Proven ability to build consensus; confident and assertive, diplomatic and professional.
Education:
An undergraduate degree in Safety, Environmental, Engineering, Behavior Safety,  Industrial Hygiene, etc.) or equivalent required. An advanced degree  and/or professional safety certification is also highly desirable.
Compensation:
A competitive compensation package will be designed that includes cash, bonus and executive benefits.  If necessary, comprehensive relocation assistance will be provided.
BrightView Landscapes, LLC is an Equal Opportunity and E-Verify Employer.
Job ID 20166
Date posted 09/11/2019
No jobs have been viewed recently.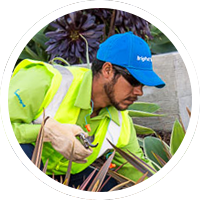 The Start of Something Great
Join the industry's leading landscape services company, with 22,000 team members who believe taking care of each other is just as important as taking care of our clients. As we design, build, maintain and enhance landscapes across the country, we create new opportunities for success—and bring big dreams to life. Start your success story here.